How do brands quantify customer eXperience when it comes to a cup of coffee?


---
Though coffee is indigenous to Central and South America, Africa, and a patchwork of Pacific Islands, its growing popularity in China largely imported from the West. As new brands have emerged, China's coffee market has attracted increased industry attention. The value of a cup of coffee is more than the pleasure it brings to the daily routine of its consumers. They value the overall experience, and are willing to pay a premium for preferred brands.
For brands, the question becomes, "When a consumer goes to a coffee shop, what standard should brands use to quantify customer experience that creates a higher brand value?"
TANG Consulting's publication of the "Chinese Coffee Brand eXperience Perception (BXI) White Paper" applied their expertise in consumer perception to the country's burgeoning coffee industry. The Brand eXperience Index (BXI) quantifies customer experience and brand benefits through the collection and analysis of opinions in both the public domain and private domain, calculating the "Brand eXperience" of nine mainstream chain coffee brands from a consumer point of view.
Quantifying the relationship between customer experience and perceived value is a common challenge for brands, as revealed in the report.
BrandStar — the industry's leading content, learning, and exchange platform — offered professional perspective on the report.
How brand experience is quantified
The options for information and interaction available today for consumers to evaluate brands are varied and diverse. From social media and online discussion forums to real-world retail presence, product purchases, use, and any customer service issues, these combined experiences positively or negatively affect consumer perception of the brand.
The process is collectively referred to in marketing as "customer experience" — from the user's first contact with the brand to the conclusion of the experience.
This is why we've seen an increasing number of brands investing a lot of time and effort beyond "products", such as Three and a Half Meals, a trendsetting Chinese coffee shop and bakery. Online retailer Guanxia creates high-quality, online content to attract potential users. Apparel brand Yunjing uses customer service and exclusive access to maintain an ongoing relationship with users. Furniture designer Fanji creates localized versions of their stores, increasing brand value through custom retail environments.
Brand eXperience should not rely on a single strategy. It needs to be planned from a holistic perspective. This also means brands need to have quantifiable and standardized metrics and tools to measure key eXperience points of the customer journey to evaluate the effect on brand experience at each stage.
Incorporating these insights, TANG Consulting introduced the concept of a Brand eXperience Index (BXI), a quantifiable evaluation process based on the eXperience strategy framework, which is used to measure the performance of brand eXperience.
It examines the brand eXperience from multiple dimensions:
1. eXperience value proposition: measuring whether the value proposed by the brand is perceived by consumers;
2. eXperience perception: determining consumer perception based on key eXperience criteria of the customer journey;
3. eXperience integration: comparing these perceptions using the four Domains of eXperience — product, communication, service, and environment — to evaluate the experience value of the brand.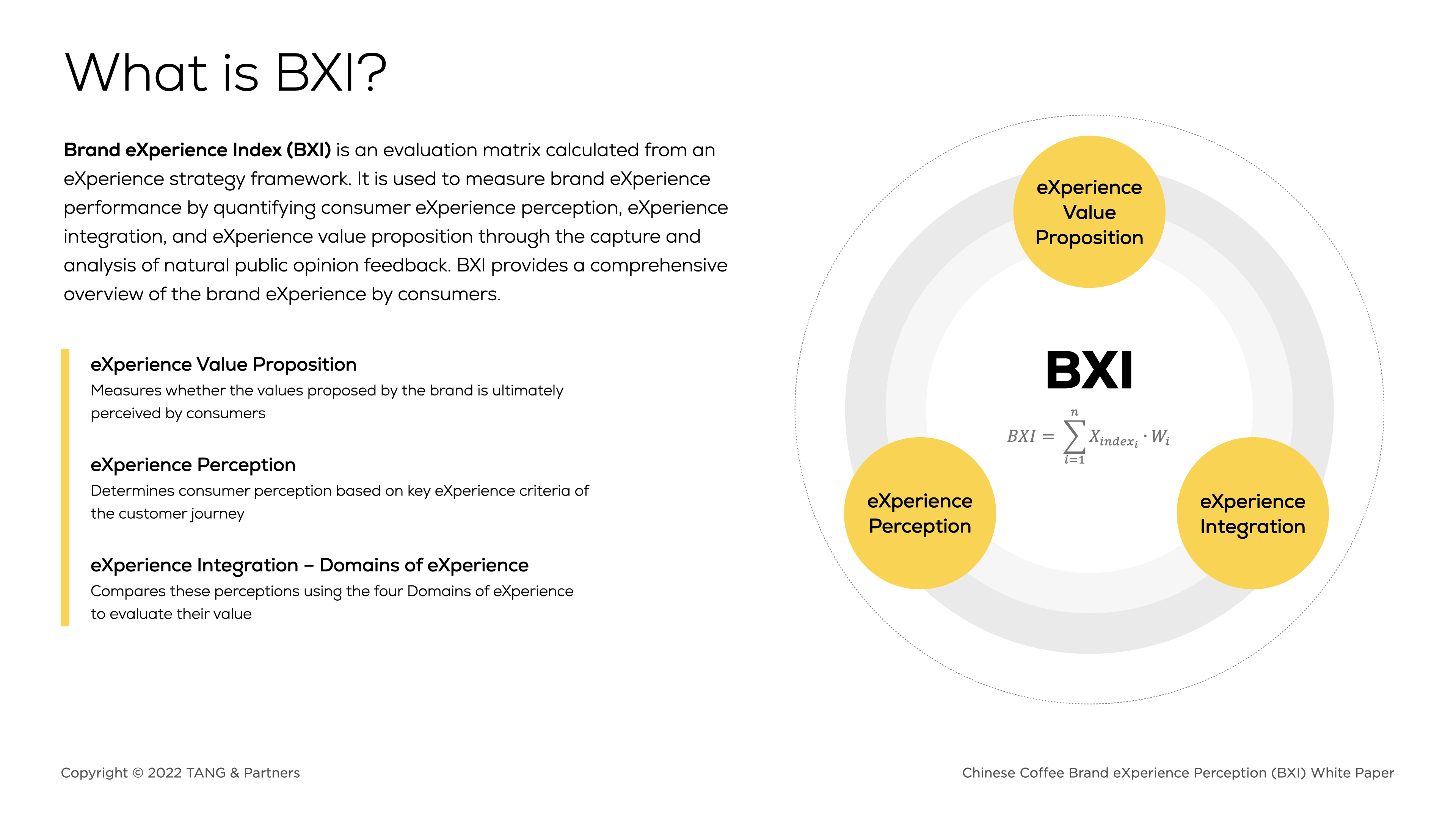 BXI collects user generated content (UGC) and consumer data in the public domain, combined with questionnaires and in-depth interviews in the private domain, to present authentic feedback and help brands evaluate consumer perception of the overall brand eXperience.
The Brand eXperience Index is suitable for analyzing a single brand and evaluating the value of eXperience to consumers (Figure 1). By comparing similar brands, it also offers insights on the entire industry:
For example, in Figure 2, comparing the "brand eXperience perception" of the nine mainstream coffee chain brands in China, we found consumer perceptions of coffee taste and coffee beans, brand voice and brand activities, are not particularly distinct. But perceived differences are indicated in product prices and service.
It's also evident in the perception of the brand eXperience (Figure 1) that distinction in the industry as a whole is determined by service. Therefore, if a brand wants to stand out among its competitors, it may further differentiate the brand's advantages through consistent and efficient service.
Figure 1: Comparison of eXperience perception applying the four Domains of eXperience, source: TANG's "China Coffee Brand eXperience Perception (BXI) White Paper"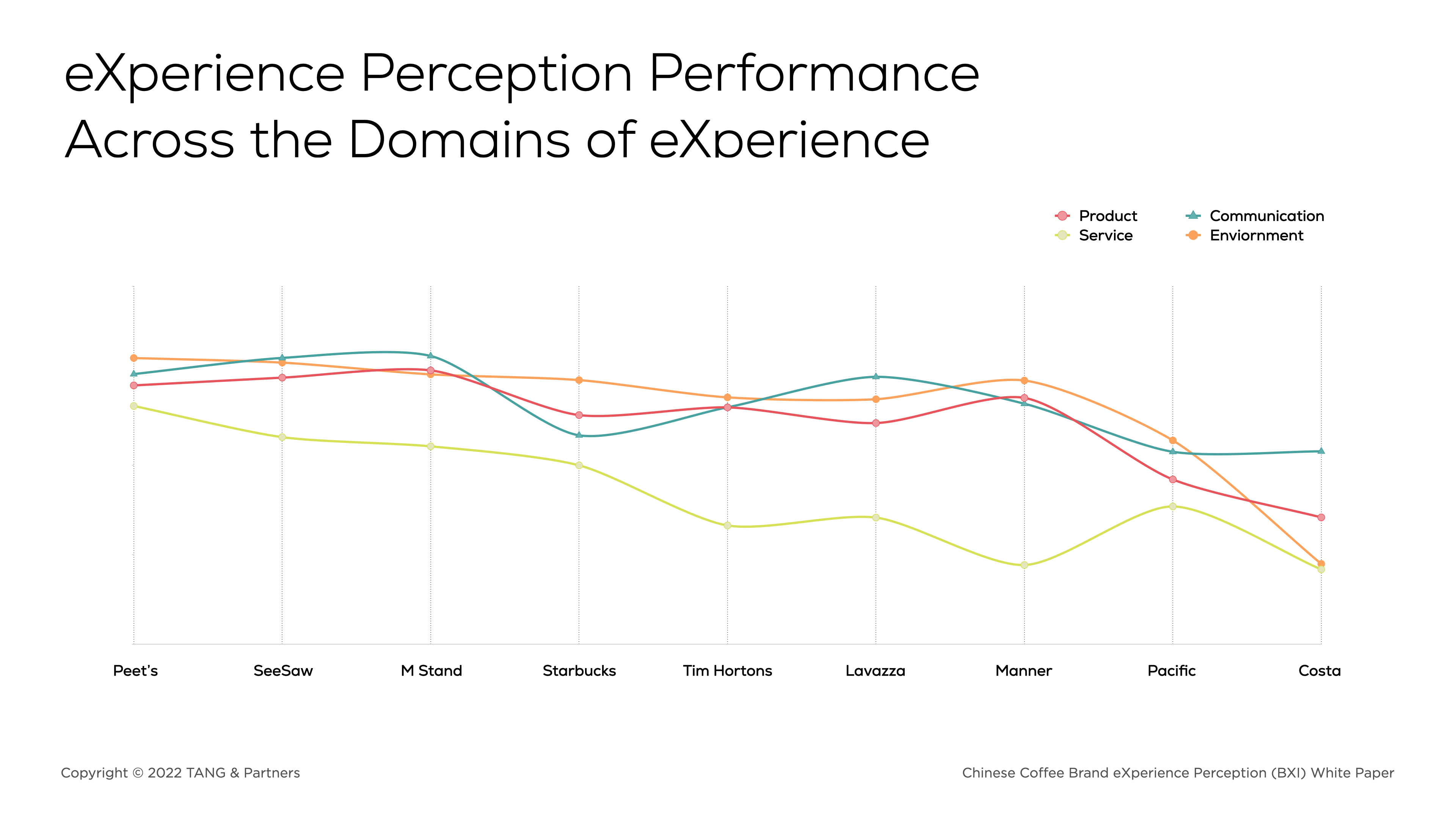 Figure 2: Comparison of eXperience perception at key eXperience criteria of various brands, source: TANG's "China Coffee Brand eXperience Perception (BXI) White Paper"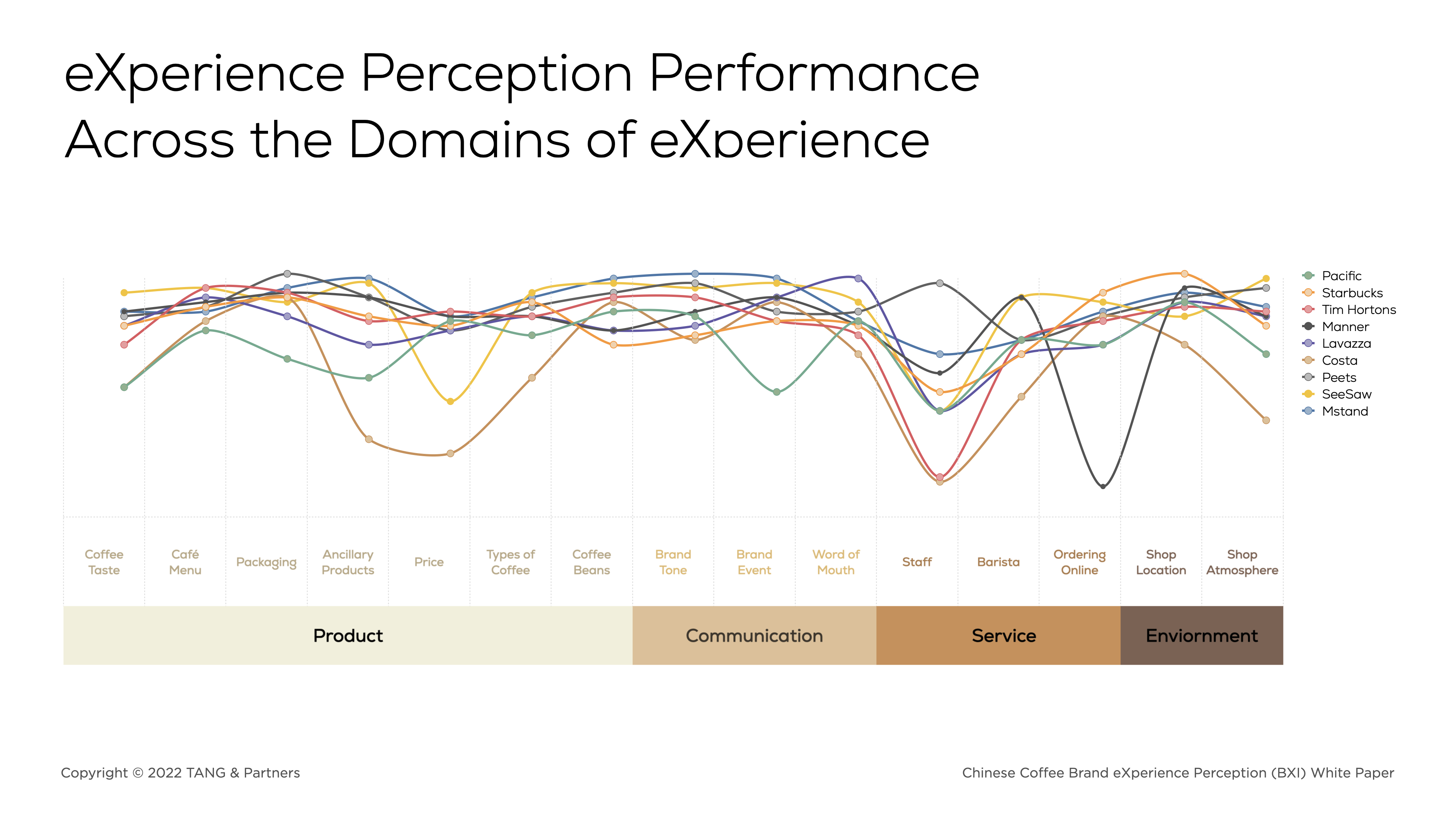 Coffee consumers appear stratified
In addition to quantitative analysis of the brand eXperience of mainstream coffee chains, the report includes qualitative research on coffee consumers through questionnaires and interviews. The report found there is a significant correlation between the perception of brand eXperience and the profile of consumers.
For example, office workers who regard coffee as a routine refreshment have the highest brand eXperience perception of Starbucks, Tim Horton's, and Manner (the leading Chinese coffee brand). Their expectations of coffee brands are more basic: a consistent and efficient experience.
It just so happens that Starbucks, Tim Horton's, and Manner are also coffee brands with relatively high "cost performance" — a combination of desirable attributes for the right price, "the best bang for the buck". Among them, Manner is known as the "King of Cost Performance", suitable for coffee consumption in daily work scenarios.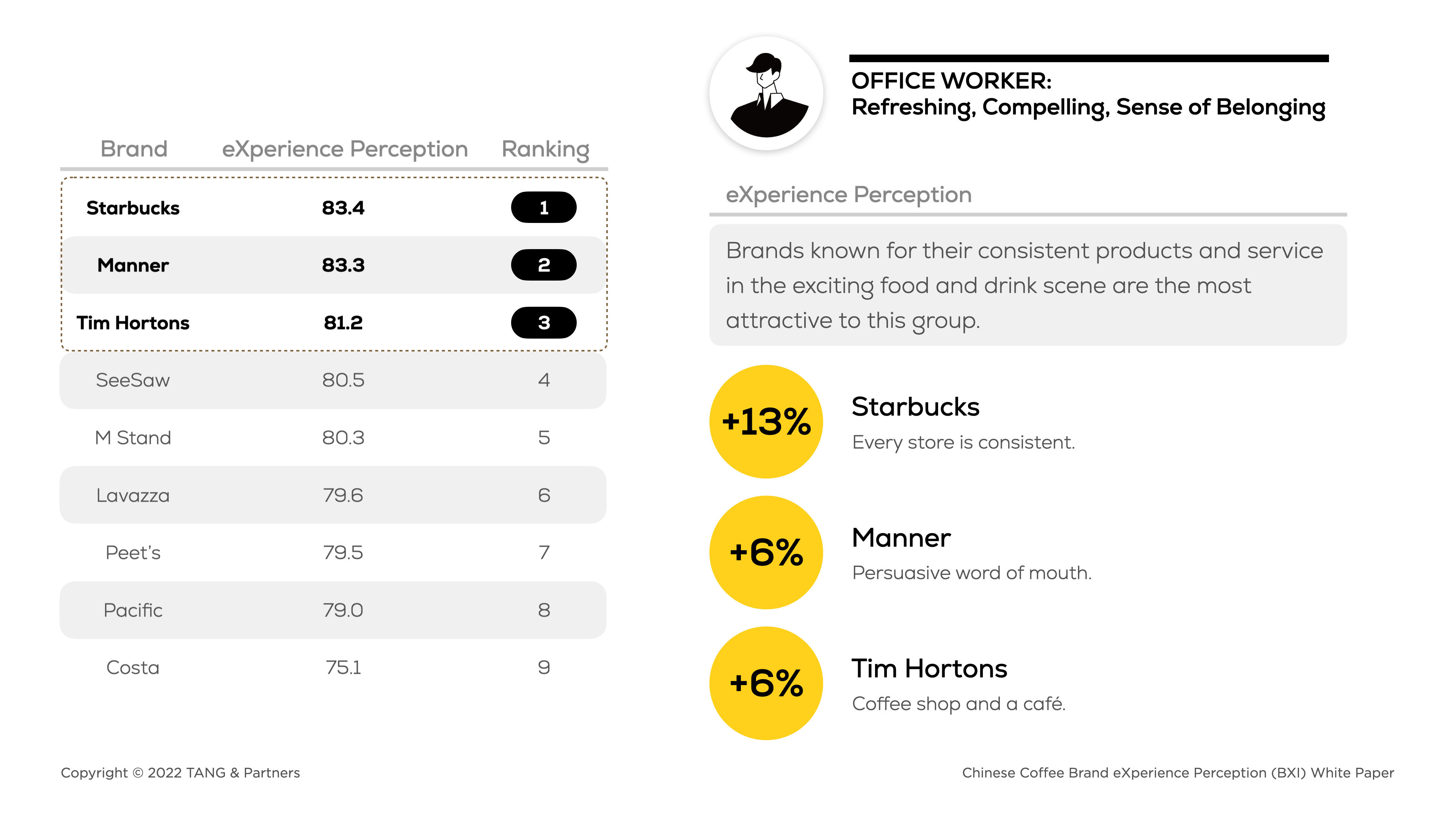 Based on the perception of brand eXperience, the report divides existing mainstream coffee consumers into four categories:
1. The first group is front-line office workers, who pursue coffee brands with the preferred amount of caffeine at an everyday price point;
2. The second group pursues new things, college students who love drinking it or are new to the workforce, preferring a fresh and lively brands and seeking rich coffee flavors;
3. The third group is driven by the pursuit of coffee culture, so they prefer brands that offer more interaction and atmosphere;
4. Finally, coffee connoisseurs, who enjoy the technology of coffee, including high-end coffee equipment.
These categories reflect the hierarchical preferences of coffee consumers, as well as the respective advantages of different coffee brands.
Not only are coffee consumers becoming stratified, coffee brands are evolving in different directions with them. For example, China's M Stand is popular for its unique space and innovative coffee drinks, while Starbucks focuses on a consistent and efficient experience, with its stores covering a wide range of offerings. Chinese specialty coffee brand Seesaw is also known for innovative coffee drinks, but provides more coffee-flavored products, attracting the interest of younger consumers. Manner focuses primarily on high cost performance.
These categories also correlate to coffee consumption in different scenarios, and coffee brands with specific strengths. It is difficult to find a coffee brand that encompasses the advantages of operational efficiency and cost performance, as well a novel atmosphere and innovative offerings. It's evident that a single brand can't excel equally in all areas, but it's necessary to understand these strengths as core advantages that distinguish brands.
Opportunities revealed by coffee consumption
At the conclusion of the report, four points are put forward on leading trends and future development possibilities for the coffee industry, echoed by additional observations from BrandStar.
The consumption trend of convenient caffeine
Caffeine has become a motivating factor among many coffee consumers. Because this demand for convenience and efficiency has steadily increased, coffee is now available in forms that are easy to carry and drinkable any time. In recent years, freeze-dried coffee powder and liquid coffee concentrate with reduced package size and ready to drink (RTD) coffee products have all become more popular.
Like Chinese upstart Boopoob, it's created a new coffee category, RTD sparkling coffee that combines convenience and cost performance. So-called "wake-up cocktails" as a new class of mixed drinks are another trend. Carbonated coffee, low sugar options, and fruit juice infusions are indicative of flavor diversification favored by consumers.
Yingji Coffee also focused on innovative coffee drinks. Starting with freshly made coffee, they add interesting ingredients or combine another beverage to the create something new. "Neon Fruit Coffee" infuses grapefruit, green grapes, and passion fruit flavors into an innovative coffee drink.
Innovative and flavored coffee drinks are becoming a new growth opportunity for coffee brands. Take M Stand and Seesaw as examples. In July 2020, M Stand reported that non-traditional coffee drinks accounted for more than half of brand SKUs with an average price per customer of ¥40 Chinese yuan, or roughly $6 USD. From September 2020 to March 2021, Seesaw's sales of non-traditional coffee drinks increased from 10 percent to 40 percent. By May 2021, the sales ratio of Seesaw's non-traditional coffee had likewise surpassed that of traditional coffee, with a repurchase rate of up to 45 percent.
Diversified offerings, integrated lifestyle, and the expanding coffee culture
The diversified and integrated lifestyle refers to brands extending to peripheral products beyond coffee drinks, such as coffee grounds made into cups, bento boxes, and everyday items. Similar peripheral products in Starbucks, Seesaw, and M Stand stores sell well.
For example, the M Stand concept of "more than coffee" extends to a wide range of peripheral products categories including a line of trendy apparel known as "M Stand Fashion". Not limited to brick and mortar stores, through the launch of a WeChat promotion, the brand hopes to connect with young consumers intrigued by the lifestyle.
However, at present, there are no coffee brands that regard peripherals as their primary business, nor consumer brands that specialize in peripheral coffee products.
Concept stores and neighborhood cafés have also emerged
With an increased proliferation and appreciation of coffee culture in China, coffee shops have become more diverse. In addition to mainstream coffee chains, concept stores of various styles have also entered the market, as have neighborhood stores dominated by independent boutique cafés.
Consumer expectations for a cup of coffee are no longer limited to the product. They are also pursuing an elevated atmosphere and level of service that offer a more personalized and individual eXperience.
Parallel to the extensive expansion of coffee chains, some concepts and neighborhood stores are expanding as well — such as Big Small Coffee, which started in the "hutongs", or narrow alleys common in residential Beijing, or JPG Coffee in Guangzhou, which started as a local café that has since extended to Shenzhen.
Simultaneously, some established coffee chains have expanded into residential communities, adding a more personal touch to both their retail shops and the overall brand. For example, Starbucks opened neighborhood coffee shops in Guangzhou and Chengdu, with cafés in the latter marketed as "pet-friendly". Starbucks also launched a line of caffeine-free drinks suitable for children in some neighborhood stores to increase appeal among families, beyond their dominant customer base of office workers.
Closing thoughts
The reason some may be skeptical of "brand building" is because brands are abstract concepts that can be challenging to define. Therefore, it's difficult to rationalize the time and effort required in the short term to generate uncertain revenue growth in the long term.
However, if "brand value" is defined as the value of the eXperience perceived by consumers, using quantitative analysis at key eXperience points along the customer journey, brands are more likely to understand and realize measurable gains. The analysis can then be used to improve customer eXperience, identify opportunities, and plan/predict future growth.
BrandStar believes these are the benefits of applying the Brand eXperience Index (BXI). The "branding" journey of consumer perception in China is still in its infancy, requiring the industry to propose a scientific and iterative quantitative analysis framework to help brands grow.
How can X Thinking help you?
It all starts with a conversation.