What Traditional Car Companies Can Learn About Digital Experience From Their NEVs Rivals


---
Since the arrival of Tesla's Shanghai manufacturing facility, demand for electric vehicles continues to accelerate. Though models from NIO, XPeng, and Li (collectively known as "Weixiaoli") are limited, sales are comparable to more traditional automotive rivals, now accounting for nearly a third of new car sales. The seems like the entire industry is leaning into growing interest in "new energy vehicles", or NEVs — China's designation for battery, plug-in hybrid, and fuel cell vehicles.
The car industry remains in the VUCA era of development (Volatility, Uncertainty, Complexity, Ambiguity). NEVs were already an emerging trend before the pandemic. Seizing marketshare in the post-pandemic era is a challenge, an opportunity, facing every automaker.
Industry Disruption: New Customers and Evolving Expectations
The consumer population has undergone tremendous change in recent years. The profile of car buyers that used to be dominated by "middle-aged men" has gradually shifted, and the proportion of younger, Generation Z, and female customers across all age ranges, has increased significantly. According to the October 2020 "Baidu Auto Industry Research (Segmentation)", in the first half of 2020, female car buyers increased by five percent over the previous year, representing 36 percent of all car buyers. The increase in younger buyers was even more dramatic, with those under the age of 24 jumping from 12 percent to 30 percent over the same period.
Consumer behavior and purchasing patterns are slowly changing, making it challenging for brands to satisfy increasingly complex and evolving expectations. Unlike the traditional older, male demographic that typically makes decisions based on prestige factors like price, younger and female car buyers tend to pay more attention to appearance and reputation — as well as the driving experience and infotainment system of NEVs. These consumers are more savvy, making purchase decisions based on the connection between the car and their lifestyle.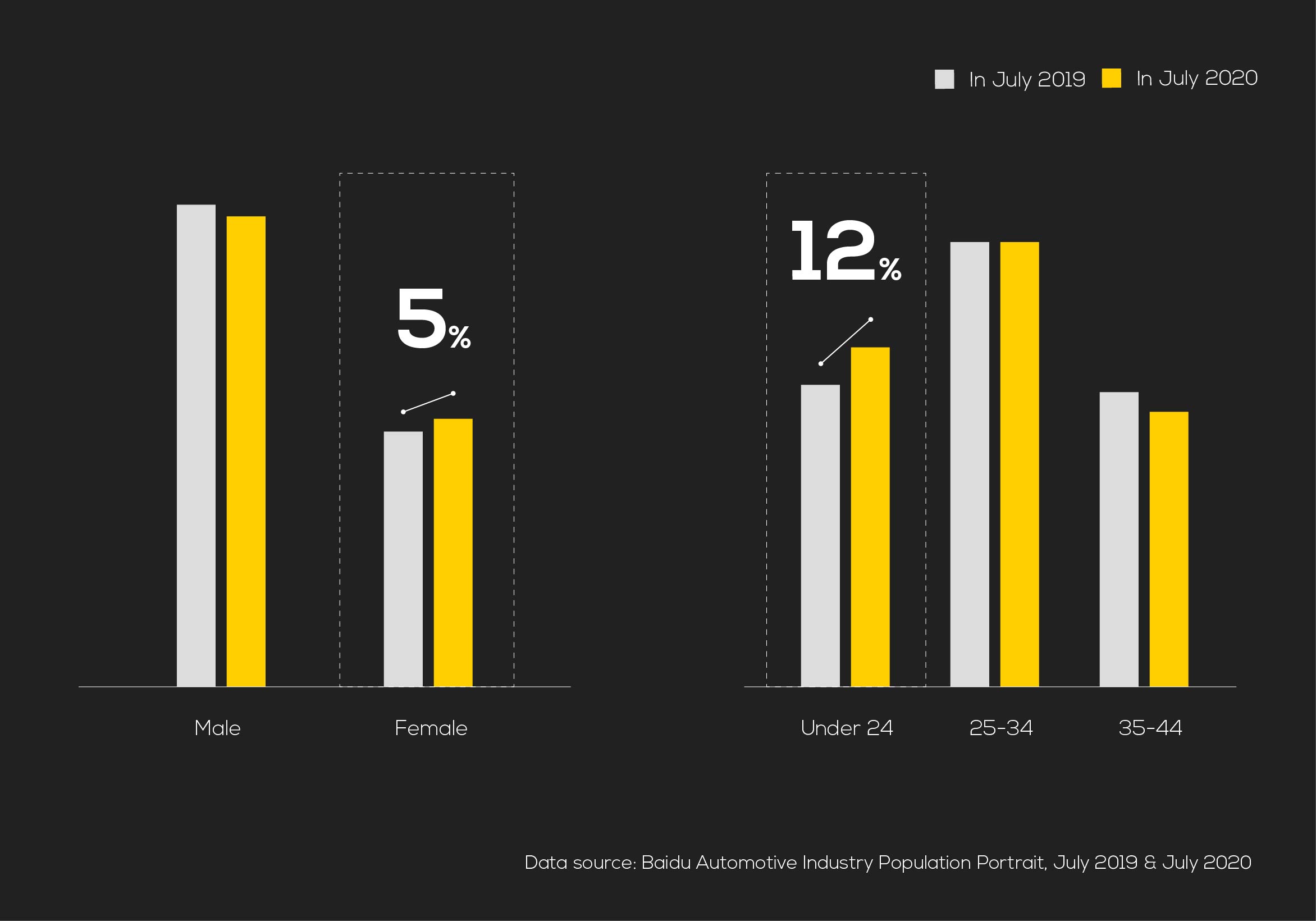 Automakers specializing in NEVs are actively embracing this significant shift, enhancing the appearance, automation, entertainment, and "smart" technologies offered by their vehicles, and an emphasis on the extended digital experience. Nearly every NEV company has created a user community through custom apps, a place where customer enthusiasm and influence converge and drive activity. From comparing models and features to scheduling an appointment for a test drive, these immersive platforms have quickly become the industry standard. This new connection between brands and fellow consumers also reveals a significant shortcoming among traditional auto manufacturers that may already be struggling with digital transformation efforts.
Struggle with the Status Quo: Three Challenges of App Transformation for Traditional Automakers
Car company apps are hardly new. Most traditional automakers were among the first to offer customer apps. However, compared to the innovative features found in apps from NEV manufacturers, longstanding brands face ongoing challenges with "infrequent activity, low conversion, and reduced retention" among users, making it difficult for them to effectively market their own NEVs. This struggle is illustrated by the three roles digital products fulfill for traditional car companies: customer service, business integration, and brand building. But failure to understand and incorporate customer perspective makes it difficult to achieve desired objectives.
1. Customer Service: Limited Functionality Leads to Infrequent Activity
The key focus of traditional automakers is to provide customer service, so the app offers primary operations like scheduling maintenance and viewing appointment information. But the frequency of use of these service functions is low and scope limited, thus making it difficult to maintain and stimulate the activity of users beyond necessity.
2. Business Integration: Complex Interactions Create in Low Conversion
The role of the app is to integrate customer interactions through digital touchpoints. However, complexity often undermines their utility. For instance, when users schedule vehicle service, the knowledge of maintenance required and volume of information requested create an intimidating and tedious process. The customer experience suffers, leading to low conversion.
3. Brand Building: Outdated Communication Results in Reduced Retention
Another essential objective for a car company app is to provide a digital channel for the brand. However, communicating the values of traditional automakers also tends to fall behind NEV rivals. Even when the brand visuals, the app still fails to connect customers and create enthusiasm and loyalty, resulting in reduced retention.
Added to these challenges is the proliferation of social media platforms like WeChat, Weibo, Xiaohongshu, and Zhihu, with interest forums for various vehicle owners increasing their popularity and offering a more organic and authentic alternative to apps. Consumers prefer user generated and moderated communities that highlight lifestyle. When traditional car company apps struggle to meet the experience expectations of these new consumers, the duration and frequency of use decline.
First-generation apps with a very narrow scope have since become impediments improving user experience and furthering digital transformation, urgent challenges traditional automakers must solve.
The Way Forward: Digital Experience Optimization
Now that we've identified the challenges, the solution becomes clear: build a community-driven environment for customers, simplify the interactive user experience of the app, and incorporate a brand communication style that today's consumers prefer. But is it really this simple for traditional car companies to achieve and succeed? Let's look at three of the dimensions of the X Thinking Holistic eXperience Model.
1. Communication eXperience: User Generated Content Encourages User Activity
The app is both an expression of brand value and a communication channel with the brand. NEV companies achieved enviable success by creating and fostering robust user communities. But almost all users also have WeChat on their cellphones, and most of them also have Weibo, Xiaohongshu, Zhihu, or Autohome — China's leading site for news, pricing, and advice from fellow customers. Traditional car companies need to develop strategies to attract social media users to brand-centric apps through community interaction and marketing content.
2. Product eXperience: Intuitive Interaction Improves User Conversion
Functionality and ease of use are not mutually exclusive in interaction design. Users need convenient and effective digital products and services provided by brands. However, streamlined interaction does not require limiting functions. We need to focus on guiding user conversion through simplified interaction, integrating the comprehensive service advantages offered by established automakers.
3. Environmental eXperience: Branded Digital Touchpoints Increase User Retention
The car company app is a digital environment that extends and enhances the brand. The app must clearly represent all aspects of the brand. A difficulty for traditional car companies is to satisfying increasingly discerning users with greater expectations while ensuring the experience remains consistent with the brand.
The Solution: Efficient Service and Elevated Aesthetic
To better define the problem and devise a solution, we need to go back to the customer perspective. This requires better understanding the desired experience by identifying needs and potential pain points when using a car company app. Based on industry research and consumer insights, we determined the needs of prospective NEV buyers and current owners are concentrated in two overarching expectations.
Modern consumers are more savvy and pay more attention to efficiency, like how easily can they obtain product information, book a test drive, or conveniently schedule service visits. But they also appreciate attention to appearance and quality, like how a brand's products and services fit into their lifestyle. Based on this understanding, we proposed three opportunity areas for optimizing the digital experience of car company apps: function, architecture, and aesthetic.
1. Function: Provide guidance and reduce complexity through better data
Users don't want simplified interactions, they want a more satisfying experience in less time. Improved functionality requires reducing the complexity of routine use, providing thoughtful guidance to avoid unnecessary confusion for users.
For instance, traditional car company apps are designed as service portals with few actual functions. By including customer stage and aggregating usage habits through better data, patterns emerge. Recommendations for frequent functions and anticipated tasks can be incorporated into individual homepages based to reduce the complexity of interface.
For functions that require significant and repetitive data entry, such as test drive scheduling and service reservations, information initially collected during registration can be used to populate predictable fields, streamlining an otherwise cumbersome process.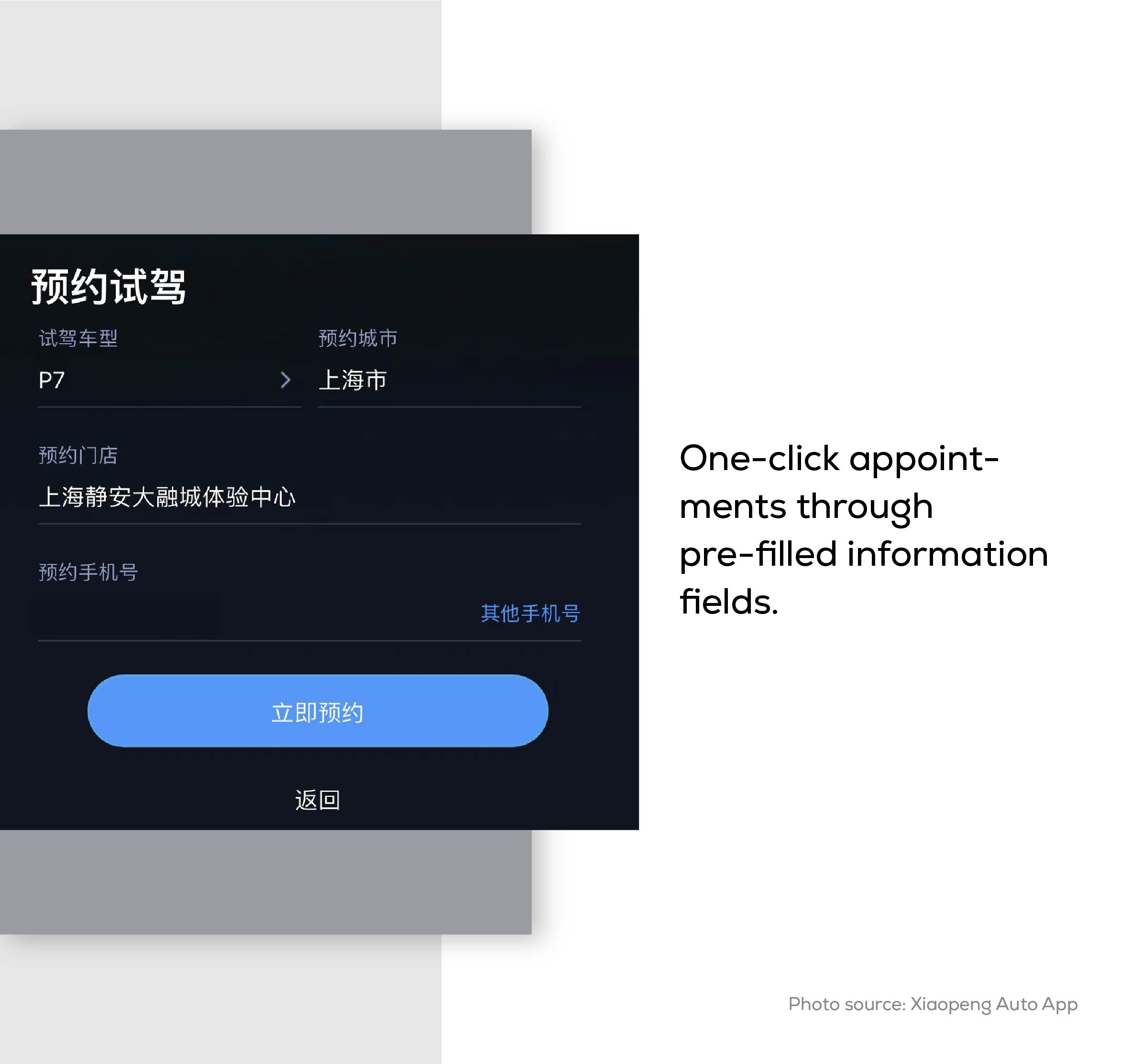 2. Architecture: Increase activity by integrating user generated content
With the advent of social media, there is a lot of content competing for the attention of consumers. A more compelling digital community has become a must for car companies. Among contemporary consumers, knowledge seeking and sharing have become part of a larger lifestyle built around the growing popularity of NEVs.
Therefore, at an architectural level, user generated content related to NEVs can be introduced through the integrated homepage, and user feedback and product information can be integrated into brand channels, attracting users with information that also supports lifestyle content.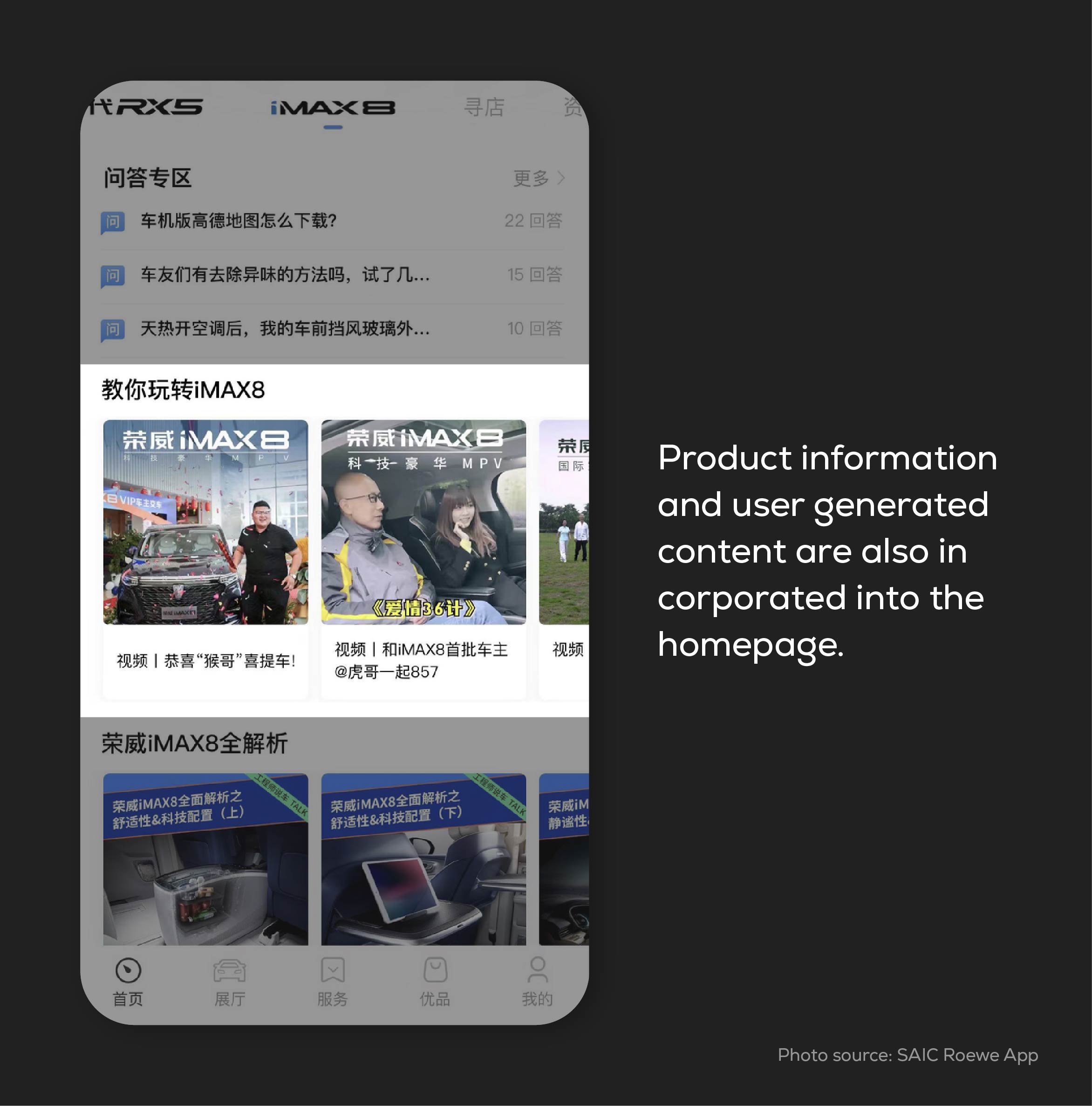 With vertical scrolling representing primary informational topics in a list format interspersed with horizontal rows for UGC activity, like user reactions, observations, and recommendations. This two-axis design creates a homepage that is more inviting and engaging for users.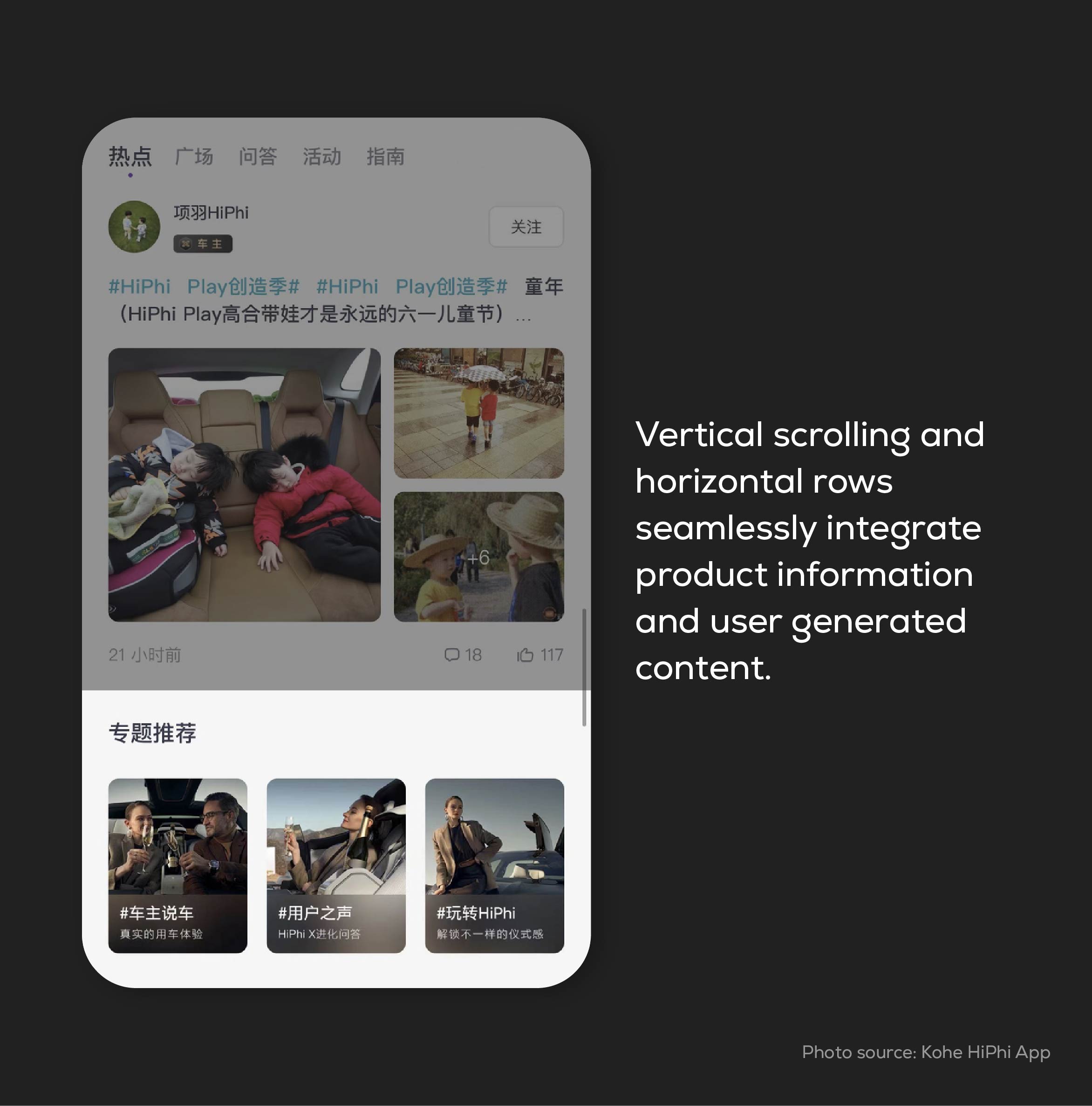 3. Aesthetic: Create a simple and immersive style to enhance appeal
To enhance visual appeal and support brand sense, the apps of automakers should eliminate redundant information and improve aesthetic quality through use of distinct brand colors and graphic elements.
Reducing visual complexity of pages with impactful layouts and images can more effectively attract users and increase their retention.
To further increase perceived brand value, traditional car company apps can incorporate more high-quality images as an alternative to icons, connecting the portals to a lifestyle reinforced by visuals the invite users to browse, click, and explore.
These recommended optimizations for traditional car company apps address the specific challenges of "infrequent activity, low conversion, and reduced retention" of users through comprehensive digital experience design. By incorporating these concepts and improving the appeal of their apps among contemporary customers, traditional car companies can increase their own sales and marketshare of NEVs.
Insights provided by TANG were applied to GAC Honda's app, creating a more streamlined digital experience that captured the interest of customers and advancing sales of NEV models. We look forward to GAC Honda's future product releases, and continued success in driving enthusiasm for the NEV market.
How can X Thinking help you?
It all starts with a conversation.