In less than 2 years, from a revenue of 400 million to a valuation of US$20 billion in Pre-IPO, the first global experience management SaaS stock is about to appear


Denny Huang
Founder & CEO / Author of "X Thinking"
---
The world's top software supplier SAP announced that it plans to spin off its subsidiary Qualtrics and list it in the United States. The latter is valued at nearly US$20 billion. Experience management software company Qualtrics, from when it was acquired to when it was announced that it plans to spin off its IPO, took less than 20 months. In November 2018, SAP acquired Qualtrics for US$8 billion in cash, at a price 20 times its expected annual revenue of US$400 million. The second-quarter financial report of SAP in 2020 shows that the amount of cloud computing business orders increased by 21% to 7.8 billion US dollars, of which Qualtrics' revenue increased by 32%.
At that time, some people thought that the price for SAP to acquire Qualtrics was slightly higher, but now, whether it is from the growth of its cloud computing business or the doubling of Qualtrics' valuation, it shows that this business is not only cost-effective but also has huge room for development. What SAP sees is the big future of customer experience management in the digital age.
Coincidentally, the development of the domestic customer experience management market has also begun to emerge. China Merchants Bank, which has always been a leader in the industry in terms of digital transformation, launched the retail customer experience monitoring system "Wind Chime System" last year, which can monitor more than 900 customer experience indicators and realize real-time monitoring and digital management of retail customer experience. The entire process of retail credit approval is digitally processed, and the time for approval has been reduced by 20% year-on-year. As the CIO Chen Kunde of China Merchants Bank said, "Customers and technology are the future of China Merchants Bank." Then establishing and improving the customer experience management system is undoubtedly a necessary means to achieve its future goals.
In addition, there are many domestic brands such as Ceyun Technology, Zhiyue Experience Management Cloud, Best, XMplus, and CEM, dedicated to customer experience management and improvement in the digital age, and their development momentum is booming.
01. Customer experience management, why is it now?
In the digital experience economy, rapidly spreading customer feedback will directly affect brand reputation and benefits. With digital inclusiveness, the praise and opinions of each consumer can be spread quickly and affect the brand.
A few days ago, a century-old brand of steamed buns made a hot search because of a bad review. A netizen posted a video after eating at his Wangfujing store, saying that "it's not that unpalatable to say, 20 yuan is about, 100 yuan two drawers is a bit expensive", the official responded that "the blogger violated the brand reputation rights" and decided to appeal According to the legal approach, the video that was originally played less than 10,000 was instantly increased to more than 13.4 million. The negative comments on the brand of buns also spread rapidly. At present, the store has been lifted from the headquarters, and the 15-year-old store has closed.
Compared with the public relations lesson, this incident is a typical case of customer experience management. Imagine if this store has a real-time collection and feedback system for customer experience feedback. Whether it is price or taste, consumers can first talk to the brand directly, instead of "Tucao" on a third-party platform, then the brand can Try to recover lost customers and reduce negative effects.
Goods are everywhere. The real competition between brands in the experience economy is experience. Brands are the aggregation of people's experiences. The foregoing real-time collection of customer experience feedback is a way of customer experience management. Another is to collect experience data through questionnaire surveys and other methods based on clear business goals, and adjust them in time. For example, Qualtrics acquired by SAP falls into this category.
SAP is not the only giant that sees the prospect of customer experience management and bows in. Foreign companies such as Oracle's acquisition of Netsuite, LinkedIn (behind Microsoft) acquired Glint, IBM acquired Kenexa, and Gartner acquired CEB. These acquired companies, like Qualtrics, have advantages in user experience data and cloud computing.
Under the digital trend, experience management needs to use the SaaS system to complete large-scale customer experience management. SaaS (software as a service) refers to software as a service. Experience management SaaS, as the name suggests, is to provide experience management XM (eXperience Management) as a service to enterprises to collect the experience data of customers and employees on products and brands, and combine it with operational data to analyze, measure, manage, and analyze Take targeted actions to optimize people's overall experience of the brand.
02. Experience data + operational data, dual data continues to drive business growth
Experience can be measured, which is a prerequisite for the realization of experience management. Peter Drucker, the father of modern management, once said: If you can't measure it, you can't manage it. What indicators can the quality of brand experience be quantified? What key experience touchpoints does the brand need to collect feedback on? To answer these questions, it is necessary to accurately define the business problem, that is, what is the current challenge the company is facing, and then establish goals, design experience, collect data, and measure whether the business problem is solved based on feedback.
To give a simple example, Xiaoming wants to lose weight by running. He feels that after running for 3 months, he didn't see any results. Later, someone recommended to buy a sports watch, this watch will guess the current exercise intensity based on the heart rate and give suggestions. When Xiao Ming's heart rate is 50-60% of the maximum heart rate MHR when running, the watch prompts that it is a warm-up intensity, and it is recommended to increase the speed. When the heart rate exceeds 80% of the MHR, the watch will prompt that excessive intensity may cause lactic acid accumulation, and it is recommended to reduce the intensity. When Xiaoming's exercise heart rate is between 60-80% of MHR, the watch will prompt "very good", and this exercise heart rate has the best fat-reduction fitness effect.
After a period of data monitoring, feedback, and adjustment, Xiao Ming found that his running fitness has improved, and the goal of reducing fat has been achieved. The mood has improved, people have become sunny, and he has fallen in love with running. Sports watch.
In this example, the built-in system of the sports watch plays the role of experience management. Xiao Ming's goal is to lose weight. The whole process of running is the experience journey, and the heart rate indicator is an important data to measure whether this process is effective. Of course, business issues are much more complicated than running fat loss, and involve more data indicators.
Operational data + experience data (eXperience Data), dual data drives continuous business growth. In the past, business growth data mostly came from operation-related data, such as production and transaction data, including objective data such as purchase frequency, customer unit price, and cost-related data. However, in the experience economy, the growth of enterprises undoubtedly requires the collection, analysis and feedback of experience data, whether it is through questionnaire surveys or data burying, experience data is more intuitive, pointing to emotional connections, lifestyle, values and other perceptual quantifications index.
Take SAP's business plan for acquiring Qualtrics as an example. SAP has ERP, human capital management, expense management, etc. in the existing cloud product line, and it masters corporate operating data, focusing on transaction and cost management; Qualtrics uses 1.8 billion touch points Collecting people's experience data, these data further enrich SAP's cloud platform and artificial intelligence platform, accelerate the iterative optimization of experience management products, and bring continuous growth to the SAP cloud computing business.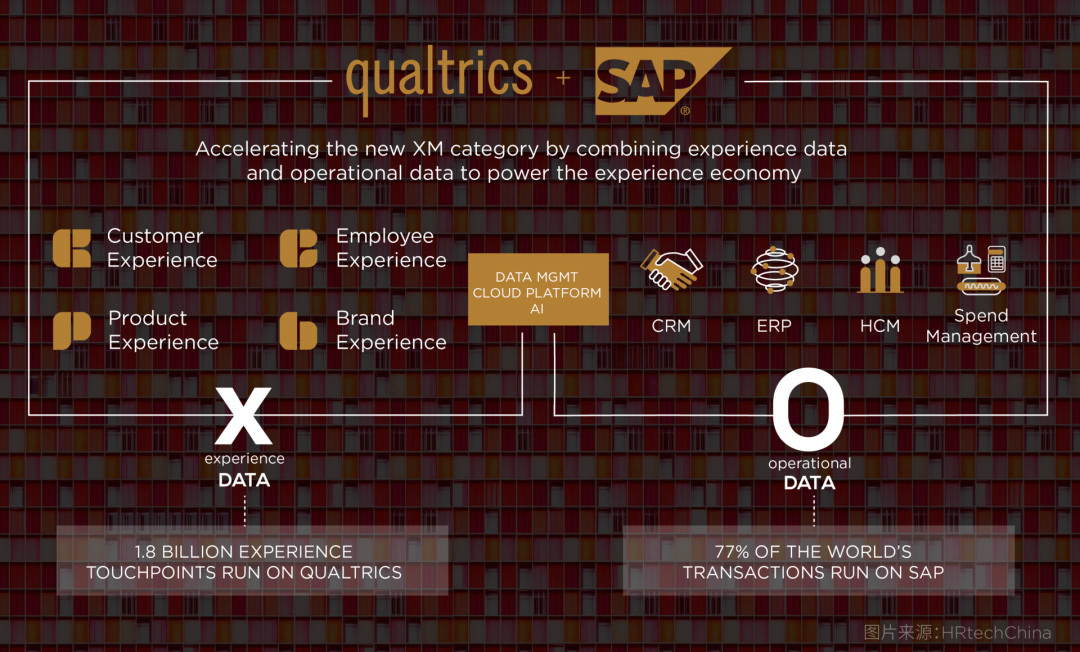 Based on more objective operational data and more perceptual experience data, companies can establish their own experience data platform eXperience Data Platform, continuously optimize various experience indicators, improve the entire system, and continue to iterate customer experience models, and optimize each touch point in a targeted manner The experience of improving bad experience, consolidating and spreading positive experience, bringing word-of-mouth communication and high repurchase rate.
Data shows that solving an existing obvious problem can increase customer loyalty by 20-50%, but only about 10% of customers will actively complain or complain to the company. Therefore, real-time monitoring and collection of experience data and feedback can be Solve the problem before the negative comments break out.
Among many quantitative indicators of experience management, NPS (Net promoter Score) is one of the important measurement indicators of customer experience management. The brand that people recommend must be the one they recognize. The average spending of a recommender is 3.5 times that of a brand detractor, and a loyal customer can bring 8 or more new customers. NPS can help enterprises quickly form consensus within the enterprise, and reasonably allocate resources to focus on key experiences, and continuously optimize the customer experience management system.
The experience is good or bad, directly affecting the company's turnover growth. Companies that emphasize customer experience management can improve repurchase rates and customer life cycles with more quantitative and intuitive data indicators. According to the market research report of Gartner and Medallia, the stock price growth of listed companies that focus on customer experience management is 45% higher than that of the U.S. S&P Index and three times that of those listed companies with poor customer experience.
03. Who needs the experience management system most?
In the era of servicing everything, all service industries deserve a complete experience management system. SaaS software as a service will increasingly become the standard for enterprises to provide services, and merely providing software is no longer new. More important than using the software itself is the experience of people using the software service throughout the process. The interface is simpler, the operation is smoother, and the scene is more personalized...Behind all kinds of superimposed services are the experience needs of people in the digital age.
The more frequent the repurchase industry, the more it needs experience management system empowerment. The quality of the experience directly affects word of mouth and repurchase, and also affects the commercial growth of the brand. Positive and positive word-of-mouth from customers can bring more new customers, and missing or lagging experience feedback will "drive away" customers in disguise. The high-frequency repurchase consumer industry not only needs to be able to produce the goods consumers need, but also needs to be able to respond quickly to changes in consumer demand, consumption patterns and even consumer spirit. These changes are hidden in experience data.
The problem can be solved only when the problem is discovered. Different types of enterprises face different customer experience management focuses and challenges. Customer experience management is not the purpose, the purpose is to solve specific business problems through customer experience management. Tang Shuo Consulting, the pioneer of domestic experience consulting, recently reached strategic cooperation with Ceyun Technology (customer experience data operation platform) and Zhili experience management cloud platform, respectively, to help brands achieve sustainable value based on experience strategy, experience design, and experience management increase.
Experience is a systematic engineering, and experience thinking is the top-level thinking of a company's digital transformation from strategy to landing. From the planning of experience strategy, to the implementation of experience design, and to the feedback evaluation of experience management, it is possible to form a closed loop of brand experience that connects everything digitally. Whether it is the construction of the NPS system or the experience management SaaS platform, what is really difficult is never the realization of the technical level, but the experience strategic thinking before the system construction.
How can X Thinking help you?
It all starts with a conversation.